HYBRID FORMAT
While the COVID-19 situation in Europe is worsening, we are still hoping to be able to welcome most of you to Tromsø in March 2022. The local organizing committee will make a final decision regarding the format of the ASSW latest February 15, 2022. We will offer online participation irrespective of the COVID-19 developments. Visit http://assw.info for up to date information.

PROGRAMME
The Business & Community Meetings are already scheduled and can be found in the programme online: https://assw.info/programme/business-and-community-meetings
The topic of the Science Day is - Arctic Remote Sensing and Remote Sensing Techniques – and the programme will consist of invited speakers, a panel debate, and a poster session. We welcome abstract submissions for the poster sessions in all topics related to Arctic remote sensing.
The program for the Arctic Observing Summit - Arctic Observing at the Intersection of Health, Understanding, and Resilience - will be available soon. For more information see: https://arcticobservingsummit.org/summits/aos-2022/
IMPORTANT DEADLINES & DATES
15 Jan 2022 Call for short statements for the AOS 2022 (open now!)
30 Jan 2022 Call for abstracts for AOS poster session (open now!)
30 Jan 2022 Call for abstracts for Science Day poster session (open now!)
1 Feb 2022 Registration opens
TRAVEL INFORMATION
The ongoing corona pandemic makes travel planning challenging. Depending on where you come from and if you have a valid COVID-19 certificate or not, different regulations apply when entering Norway. Regulations might change quickly. Keep yourself up to date using the following links:
REGISTRATION
Registration for physical and online participation will open on Feb 1. Given the current format, online registration will be free. A small fee might be necessary if the event has to be moved fully online. Physical registration fees include coffee breaks and lunch, as well as poster sessions and the ice-breaker on the respective days.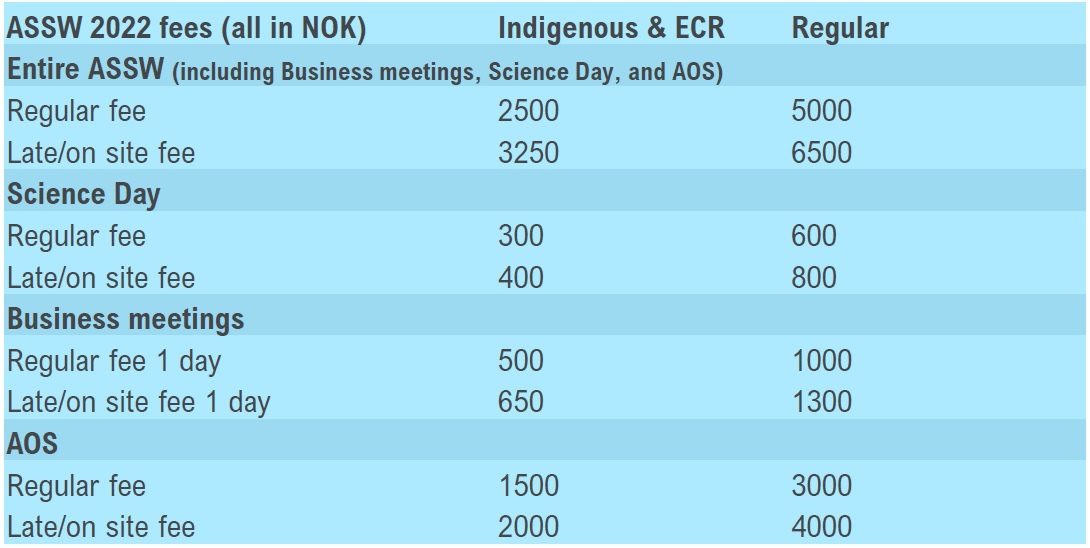 ACCOMMODATION
Accommodation is not included in the registration. Participants will have to make their own arrangements for accommodation but special rates for ASSW 2022 participants are available at several hotels. For more information go to: http://assw.info/practicalities/accommodation

The local organizing committee is looking forward to welcoming you to the ASSW 2022!
Contact us if you have questions: ContactASSW2022@uit.no