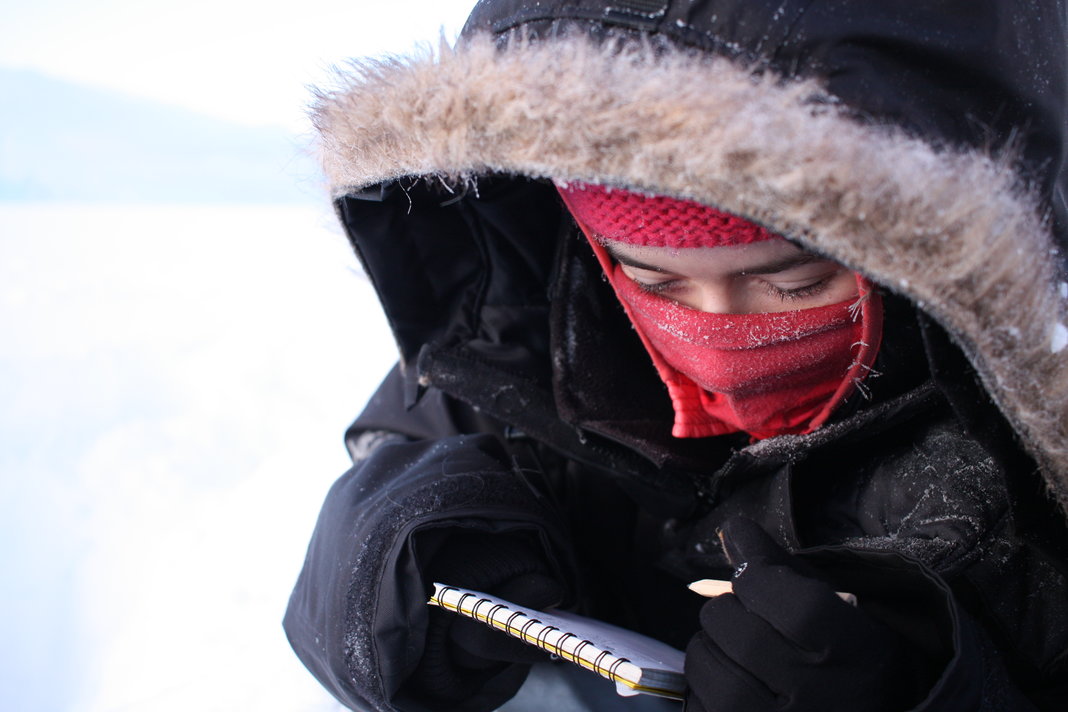 Several years ago, I never imagined that I would have a chance to visit the Arctic. It was just another remote region on a map. Thanks to my PhD studies, I had a chance to visit this "remote & cold place", called Arctic, several times.

With every visit there, I am amazed just how "cool" glaciers can be – and not only because of their cold temperatures! Glaciers are just beautiful. And even if most of them are located in remote & cold areas, without glaciers and ice sheets life on the Earth would be very different, as they affect e.g. global temperatures or sea level rise.

As a PhD student I also observe how "sensitive" glaciers are. For example, they are sensitive to warm temperatures or lack of snow. Exposed to negative conditions, a glacier may melt faster, get smaller, or change its structure. Those changes in glaciers and ice sheets affect both climate change and quality of our lives –that is why monitoring glaciers is necessary.

How to monitor glaciers? As an example, Hansbreen – my favourite glacier located in Svalbard – is more than 55km2. This can be compared to a half of the area of Barcelona. Yet, Hansbreen is still quite a modest glacier in terms of its size! It is quite hard to visit all the places in a half of Barcelona. It would be even harder if it was covered by crevasses or deep snow…and with no cafés!

Fortunately, by using satellite imagery and remote sensing data we can "visit" all the glaciers and monitor their status by using parameters. One of the parameters, which reveals the state of the glacier, is the extent of its zones. The most important zone for Hansbreen is firn, i.e. snow more than a year old. The larger the area covered by firn, the better the state of the glacier is. In other words, if a glacier gains mass, the event of complete melting is harder. The results of our remote sensing analysis showed that my favourite Hansbreen lost approximately one-third of its firn area during the last decade. This area is as big as 600 football pitches!

Hansbreen is not the only one – a similar situation is occurring on two other Svalbard's glaciers under our monitoring – Storbreen and Hornbreen – as well as many other glaciers in the Arctic and around the world. This means that those "cool" glaciers – because of their sensitivity to climate changes – are in trouble. This is a sign that we are in trouble as well.

Are you an Early Career Scientists and want to apply for IASC Fellowship? Do not hesitate! For me, being an IASCFellow is a great lesson which I would call "a backstage of science". I have learned how science in the Arctic is supported and guided – something what I was not really aware of before. Moreover, the IASC Fellowship gave me the opportunity to meet many scientists interested in the Arctic and discuss with them recent results of my PhD project at the Centre for Polar Studies (University of Silesia). This opened another door for me – I was invited to the 2019 Arctic Circle Assembly as one of the speakers at a session dedicated to Arctic glaciers!

Get in contact with Barbara!


IASC Fellowship Program
The IASC Fellowship Program is meant to engage Early Career Scientists (ECS) in the work of the IASC Working Groups (WGs). IASC Fellows are doctoral or postdoctoral researchers who actively participate in selected activities of the IASC WGs. The total duration of the IASC Fellowship Program is 1+2 years. After the first year the Fellows have an opportunity to stay involved up to 2 more years. The further involvement is individually decided by the WG Steering Group and the Fellow.
The IASC fellowship Program opens for new candidates every year around late September and is due mid-November . The call and the selection is held in collaboration with APECS.
For more information click here or contact the IASC Fellowship Coordinator Alevtina Evgrafova.