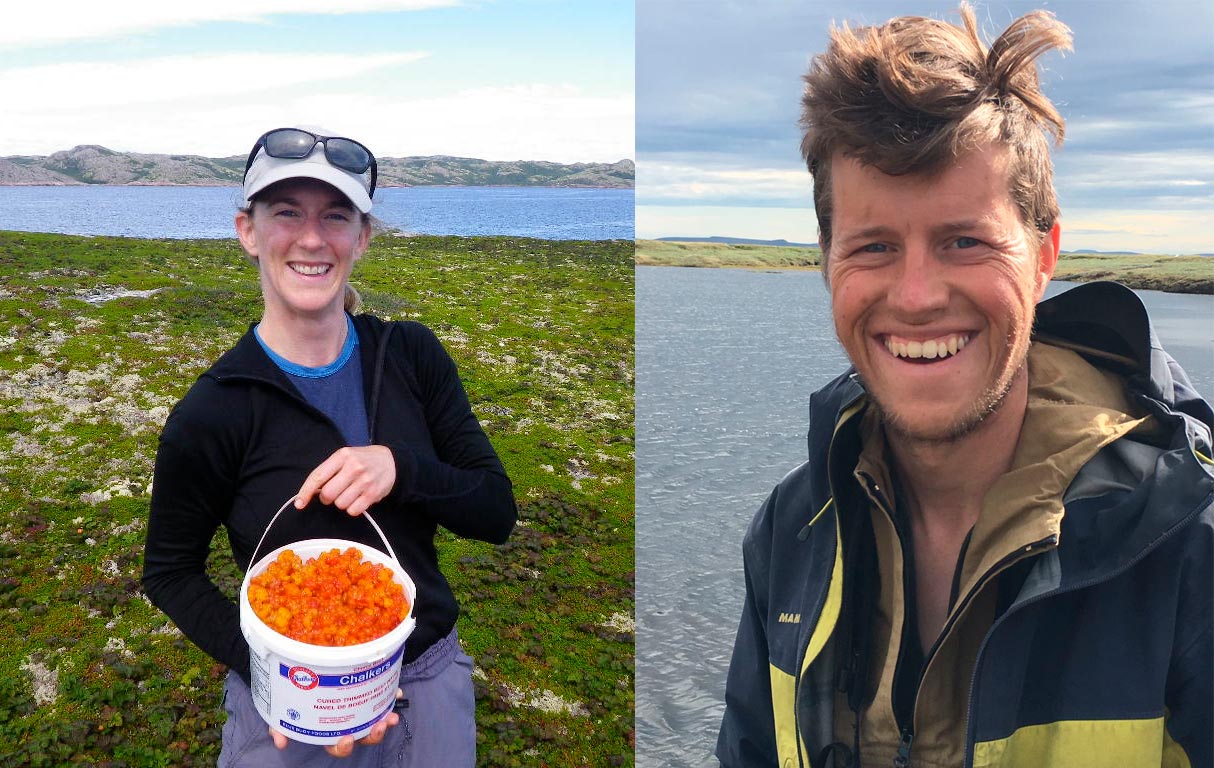 The Conservation of Arctic Flora and Fauna CAFF) and the International Arctic Science Committee (IASC) welcome Thomas Lameris and Erica Oberndorfer to the inaugural CAFF-IASC Fellowship in 2018.
CAFF and IASC have teamed up together to provide Fellows with an opportunity to identify a joint area of interest and expertise, participate in and contribute to CAFF's work, and produce at least one peer-reviewed publication and/or deliverable report to the Arctic Council Senior Arctic Officials. The selection process was organized in cooperation with the Association of Polar Early Career Scientists (APECS), who managed the applications and coordinated the work of our independent, volunteer reviewers to evaluate and recommend the highest quality candidates. The final selection was made in consultation with CAFF and IASC.
Lameris and Oberndorfer will begin their Fellowship by attending the CAFF Board Meeting February 6-8, 2018 in Fairbanks, Alaska. After this initial introduction, they will delve into their respective projects and continue with appropriate meeting(s), and contribute to the work of the groups. In addition, they are expected to contribute to the program of the Arctic Biodiversity Congress, 2018.
Lameris will focus his activities on CAFF's Arctic Migratory Birds Initiative (AMBI) and Oberndorfer will focus on CAFF's Circumpolar Biodiversity Monitoring Program's (CBMP) Terrestrial work.
Lameris is a bird ecologist, mainly focusing on the impacts of climate warming on phenology and reproduction of Arctic migratory birds. During his MSc at the Wageningen University in the Netherlands (2013), he studied the effects of anthropogenic land use changes on breeding birds. He shifted in focus to climate warming effects during his PhD, where he studied barnacle geese that migrate from wintering grounds in Western Europe to breeding grounds in Arctic Russia. He is currently finishing up his PhD thesis and starting his post-doc work on the effects of climate warming on the growth of red knots that breed in the Russian Arctic.
Oberndorfer received her PhD from Carleton University (Ottawa, Canada) in 2016 and is a Post-doctoral Fellow at the Labrador Institute in Happy Valley-Goose Bay (Labrador, Canada), where she lives. Her work is guided by plant mentors in the Inuit Community of Makkovik (Nunatsiavut), with a view to understanding how plants are integrated into daily life in the region and how plant communities express the ecological legacy of cultural practices in Labrador. She is currently working on the Makkovik Plant Book, a community book focused on the teachings of Makkovimiut plant mentors.
CAFF and IASC welcome Lameris and Oberndorfer and thank APECS for helping to promote the Fellowship and secure the successful candidates.